Zipline Nepal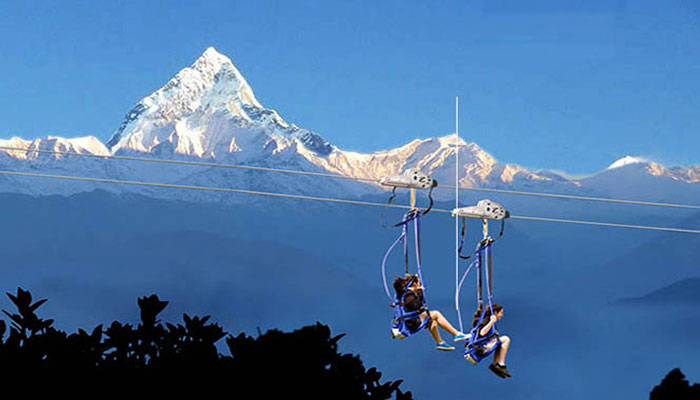 Zipline Nepal in Pokhara which is 1.8 km long and which has a potential to shoot up to 100 miles per hour was opened in the year 2010 to address the deeper need to meet the adventure requirements of traveler. In no time the zip flyer drops from 2000 meters to around 800 meters and this adventure sport became popular as no other because it includes tidbit of nature and the view of the city in the distance. This activity has been highly acclaimed by many popular news websites and travel magazine from around the world for being it one of the most extreme zip lines in the world.
Alike other aerial adventure sports in Pokhara, zip line nepal one as well initiates from Sarangkot. Sarangkot is centrally located in the Pokhara valley and soars up to 2000m in elevation. An early morning ride to this spot gets you on your heels with the most beautiful view of the Annapurna range. Relax with a cup of Joe while you wait for the most adventurous zip liner with a jaw dropping view. After a brief guide of do's and don'ts from trained and certified personnel you will gear up harness and ready to shoot. After you are airborne it takes no more than around a minute and half to reach the final destination, making your way through lush green forest and crossing one of the major tributaries namely Seti. The zip flyer lands in the neighboring village of Hemja from where driving back to Pokhara taker roughly half an hour.
Day 01: Arrival in Kathmandu.:

On this day you arrive to Kathmandu and we transfer you to your hotel. After arriving at the hotel you rest and rejuvenate and observe the locality. A member of Himalayas facts holidays will brief about the itinerary on this same day.

Day 02: Kathmandu Valley Sightseeing.:

While our backend personnel will be busy making arrangements for the day to come, we would take the privilege to go around the city and look at some interesting historical relics. On this day we would visit Swayambunath; famous as monkey temple as well, Basantapur Durbar Square; an ancient palace courtyard, and Patan Durbar Square.

Day 03: Kathmandu - Pokhara ( 200kms) 06 hours.:

After breakfast, we head towards the most scenic city of Nepal, Pokhara. Pokhara is 200 km away from Kathmandu and is a very beautiful destination which offers close
view of mountains in Annapurna Massif. We reach Pokhara in around 1-2 pm through beautiful highway carved out on lush green hills, along one of the major tributaries.  After reaching Pokhara we freshen up and see the periphery of Fewa lake.

Day 04: Pokhara Sightseeing and Zip flyer tour::

After breakfast, from the staff's of Zip flyer will pick up you from the hotel and give you brief about the zip flyer. you will be drive 30 minutes from Pokhara to
Sarangkot Hill, where you can see breathtaking view of Annapurna & Fishtail mountain range. Need to wait for your turn, we assure your wait will be exciting, At 2100
meter above sea level you will sit into a special harness seat and await your launch. 02 persons launch at once, and it is a race to the bottom 5,4,3,2,1 and you are off. accelerating to 100 mph as you pass above the dense forest below. If your eyes are still open you will see sweeping views of majestic fishtail mountain and the Annapurna range. You will be landing on the Highground triangle in the village of Hemja. Afternoon visit David fals, Seti george, Bindabasini temple, Guptesor cave and 01 hour boating on Fewa lake. Overnight in Hotel. hour boating at Phewa lake. Overnight in Hotel.

Day 05: Pokhara- Kathmandu.:

On this day we have our breakfast by 7:00 a.m. in the morning and make our way towards toward Kathmandu. The drive takes around 06 hours through bends of lush green
hilly terrain and along the major tributaries, with couple of breaks in between for snacks and lunch.

Day 06: Departure from Kathmandu.:

We help you transfer to the Airport according to the schedule of your flight. With heavy heart and excitement of seeing in future we wave off for this time.