Paragliding Nepal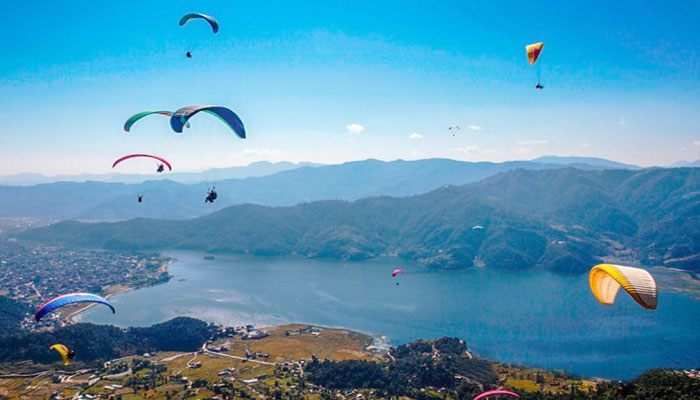 Paragliding Nepal is an exhilarating experience and this adventure sports in Nepal has been rejoiced the most. Pokhara which is a beautiful city on the laps of Annapurna region initiated paragliding in 1995 and after its grand success Kathmandu joined the business. It has been quenching the adrenaline rush of adventure enthusiast from around the world. Pokhara till the day is a heavy weight contender when it comes to paragliding in Nepal, whereas paragliding in Kathmandu is gaining its popularity amongst travelers who cannot afford to travel to Pokhara due to several region.
Paragliding Nepal trip initiates from the highest hilltop adjacent to Fewa Lake known as Sarangkot. Sarangkot is a small hilltop village which is located at an elevation of slightly above 1400m and is famous for early morning sunrise and as a hub of aerial adventure sports. Fewa Lake which is right at the foot of the hill is already a stunner and added to the beauty of the lake the hawk eye view of it and the periphery is out of this world. The view of the Annapurna on the north adds up to the beauty of the paragliding trip.
Paragliding Nepal is not a distant dream and is available in Kathmandu. Opened in outskirts of Kathmandu at Godavari, the trip initiate from 2100m and descend down with wonderful view of Kathmandu city. As it is on one of the calmest outskirts of Kathmandu, it is absolutely serene and beautiful with best blossoms in the season. It is the weather permitted flight and depends on wind condition. The hilltop of Godavari offers a very beautiful lush green hills surrounding Kathmandu valley where as the view of botanical garden lies in beneath. The distant views of Langtang and Ganesh range is not one of the best but certainly adds up to the paragliding experience in Nepal.
Day 01: Pokhara Arrival:

Arrival transfer with assistance to Hotel, Afternoon boating 01 hour on Fewa lake, Evening free for roaming to Lakeside city. Overnight.

Day 02: Pokhara – Paragliding tour:

After breakfast, preparing for Paragliding from the Sarangkot hill, This is the weather permitted flight. Every morning from 09 am to 02 pm operate from the Sarangkot hill. It has the 03 types of flight choices for the clients, 30 minutes cloud buster flight, 60 minutes Cross country flight and 20 Acrobatic flight. Clients can choose their time and the budget for the flight. Afternoon half day Pokhara city tour. Overnight in the hotel.

Day 03: Pokhara Departure:

After breakfast, free till departure.