Himalayan Sunrise Tour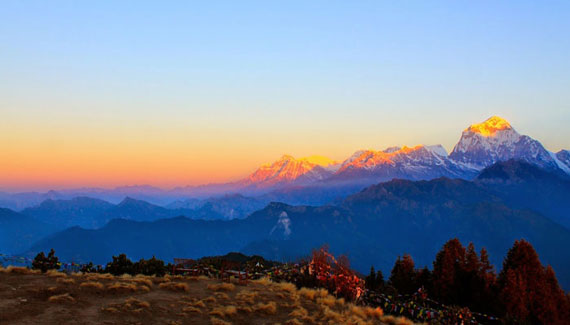 Himalayan sunrise tour is a hand crafted tour in Nepal by Himalayas facts holidays. This package caters avid nature lovers who travel around the globe to get the glimpse of the best sunrise. This tour is an overland tour in Nepal and does not require any physical strength to get involved in this tour where as the outcome of this tour is total ecstasy.
Himalayan sunrise tour takes you in the lives of Nepalese people and not only shows you how the sun rises and sets would look at different destinations of Nepal but also would expose you on how people live their lives in these destinations.
Nagarkot, Bandipur, Pokhara and Sarangkot have one thing in common and that is their unparalleled views of the mountains. The view of Nagarkot stretches as far as Mt. Everest in the east and includes 4 of the highest peaks out of 10 in the world and the view is best and crisp in the mornings. Bandipur is another hill station on the way to Pokhara which once fell on the Silk route, it is as well famous for sparse settlement in a serene hilltop which offers excellent sunrise and sunset and in addition mind boggling cascade on the northern end. Pokhara and Sarangkot are undisputed heavy weight Champion when it comes to the ultimate mountain viewing experience but for only the mountains of Annapurna massif.
Overall Himalaya sunrise  tour is a fusion of cultural and natural presence with the pinch of majestic mountain range in Nepal. This is a very suitable trip for travelers with limited time and for those interested in nature, culture and historical art and artifacts.
Day 01: Arrive in Kathmandu:

On this day you arrive to Kathmandu and we transfer you to your hotel. After arriving at the hotel you rest and rejuvenate and observe the locality. A member of Himalayas Facts Holidays will brief about the itinerary on this same day.

Day 02: Sightseeing in Kathmandu city and Patan City:

While our back end personnel will be busy making arrangements for the day to come, we would take the privilege to go around the city and look at some interesting historical relics. On this day we would visit Swayambunath; famous as monkey temple as well, Basantapur Durbar Square; an ancient palace courtyard, and Patan Durbar Square.

Day 03: Sightseeing in Kathmandu –Bhaktapur and Nagarkot:

After breakfast, visit  Boudhanath stupa , a Buddhist shrine, visit Pashupatinath temple, a sacred Hindu temple dedicated to god Shiva and  open air cremation platform. Afternoon visit Bhaktapur city. This city is a treasure and unsoiled reflection of medieval Nepal and is an artistic, archaic courtyard. The main appeals of this city is the prehistoric Durbar square, with its 55 windows, the pagoda style houses and temples, the pottery square; where people spend all day making clay pottery, and the unrefined way of life. We head towards Nagarkot. This is a very popular hill station for viewing sunrise and sunset in the mountains.

Day 04: Nagarkot – Bandipur:

After viewing magnificent sunrise over the Himalayas and grabbing our breakfast we make our way to Bandipur. Bandipur is around 150km west from Nagarkot. Bandipur is a very rustic settlement from the time of ancient Silk route era and because of its preserved ancient ambiance and the view of Annapurna in the distance makes it more beautiful. Although it depends on traffic condition, it usually takes around 05 hours of drive.

Day 05: Bandipur – Pokhara:

After sunrise, breakfast and doing a miniature side seeing in Bandupur, we head towards the most scenic city of Nepal, Pokhara. Pokhara is around 80 km away from Bandipur and is a very beautiful destination which offers close view of mountains in Annapurna Massif. We reach Pokhara in around 02 p.m. check in the hotel, freshen up and go to see the David falls and Seti George . Overnight in Hotel.

Day 06: Pokhara – Sarangkot Sunrise:

On this day we wake up as early as 4:30 in the morning and head towards Sarangkot. Sarangkot is the highest hill stations in Kathmandu which is a hub for view of Sunrise over the beautiful mountains of Annapurna massif. Sarangkot is also the initiation spot for adventure sports like paragliding and ultra light. After watching the sunrise view drive back to hotel, have breakfast. Afternoon free personal activities visit the Lake and take picture of the people and whose lives revolve around the lake. The centrally positioned shrine of Hindu where we can boat, do boating on the lake if you are interested. Overnight in hotel.

Day 07: Pokhara to Kathmandu:

On this day we have our breakfast by 7:00 a.m. in the morning and make our way towards toward Kathmandu. The drive takes around 06 hours through bends of lush green hilly terrain and along the major tributaries, with couple of breaks in between for snacks and lunch, evening free.  Overnight in Hotel.

Day 08: Departure from Kathmandu:

We help you transfer to the Airport according to the schedule of your flight. With heavy heart and excitement of seeing in future we wave off for this time.
What our clients say?