Annapurna Circuit Trek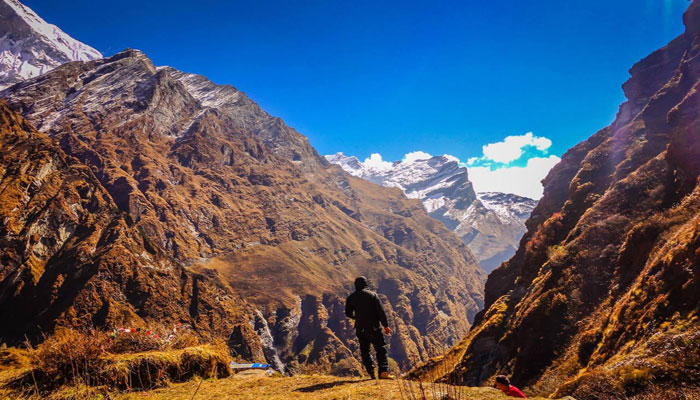 Annapurna circuit trek is the most enchanted treks in Nepal, since the world first noticed the Himalayas of Nepal in the telescope. The Annapurna circuit trek covers around 300 kilometers to make a complete round of the massif and this trek is one of the most vibrant and prominent routes in Nepal. The route follows the Marsyangdi valley to Manang, and climbs to the zenith of the trek known as Thorung la pass and further strolls down to banks of Kaligandaki; the deepest gorge in the world.
The real treasure of Annapurna circuit trek is its landscape. The trail initiates in hot and humid subtropical climate and in the fields of rice paddy and slowly escalates through lush green deep gorges all the way up to the alpine region of Manang region with the awe inspiring mountain panorama. Along with the landscape the dwellers in the region are comparatively rustic, their culture and religion is everlasting and the homes as well as the monasteries are completely archaic. The Gurungs and Ghales of the southern end, the Manange of Manang and the Thakali of the Mustang region display a wonderful mix of culture as well as religion.
The Annapurna circuit trek route is as well entirely inhabited and the teahouses ran by the locals offer an excellent opportunity to exchange talks and share about the culture and traditions. The seabuckthorn juice, hot soup and meal at every stop and a comfortable bed by the end of the day make this trek more beautiful. The lush green knoll  primarily of Rhododendron of almost every hue, followed by the pine and the alpine shrubs which is inhabited by monkeys, Himalayan Thar, musk deer and many other beautiful creature.
Take a trip to the most exciting trekking holidays in Nepal with Himalayas facts holidays! If you have enough time and have what it takes to spend many days out in serenity, we will design a wonderful itinerary for you to make it a recurring dream.
Day 01: Arrive in Kathmandu:

On this day you arrive to Kathmandu and we transfer you to your hotel. After arriving at the hotel you rest and rejuvenate and observe the locality. A member of Himalayas facts holidays will brief about the itinerary on this same day.

Day 02: Sightseeing in Kathmandu city and Patan City::

While our back end personnel will be busy making arrangements for the day to come, we would take the privilege to go around the city and look at some interesting historical relics. On this day we would visit Swayambunath; famous as monkey temple as well, Basantapur Durbar Square; an ancient palace courtyard, and Patan Durbar Square.

Day 03: Kathmandu - Besi Sahar (760m) 06:00hrs. Drive.:

After breakfast, drive to 07-hours (185 kms) from Kathmandu, we reach Besishar. Upon arrival at Besisahar you will see the stunning snow-capped mountain. Overnight in Lodge.

Day 04: Besi Sahar - Bahundanda (1310m) 06:00hrs.:

Today we starts trek from Besishahar, and cross Khudi (790m), then reach Gurung village. Trek continue from Khudi, to Bhulbhule (825m), en-route you will see scenic view of mountains and culture of Nepalese people. Today our 2nd overnight in Bahundanda(1310m). Overnight in Lodge.

Day 05: Bahundanda - Chamje (1430m) 06:00hrs.:

Today we crossing the Marsyangdi River on a suspension bridge, we follow the river to the stone village of Jagat seeing waterfalls and forest to Chamje (1,430m). Overnight in Lodge.

Day 06: Chamje – Bagarchap (2160m) 05:00hrs.:

After breakfast, day begins with the rocky trail following the Marsyandi Rivers steadily uphill to Tal (1,675m), the first village in the Manang district. Our journey continues up and down to Dharapani (1,890m). On the way to Bagarchhap crossing the apple and maize fields, you will see typical Tibetan style houses at Bagarchhap (2160m). Overnight in Lodge.

Day 07: Bagarchap - Chame (2670m) 06:00hrs.:

Today treks continuing through the forest. We reach the Chame, which is headquarters of the Manang district. Along this route you will introduced to the local community, which have migrated from Tibet centuries ago, noticeable by their physical features and lifestyle with architecture and livelihood matching to Tibet. From Chame you will see excellent views of Annapurna II. Overnight in lodge.

Day 08: Chame - Pisang, (3200m) 05:00hrs.:

Treks starts through a deep forest in a steep and narrow valley, crossing the river on a long bridge (2,910m). The trail joins to ascend to Pisang (3200m). Overnight in Lodge.

Day 09: Pisang- Manang, (3540m) 04:00hrs.:

Today we trek upper part of the Manang district. Leaving Pisang, we have both trails form the north and the south of the Marsyangdi River which meets at Mungji. The southern route by Hongde, with domestic airfield (3,325m). From Mungji, the trail continues past the pleasing hidden village of Bryanga (3,475m) to the nearby Manang (3,540m). Overnight in Lodge.

Day 10: Manang- rest day for acclimatization.:

Today acclimatizing in Manang. Whole day exploring the superlative sights around the village. Overnight in Lodge.

Day 11: Manang – Yak Kharka (4018m) 04:00hrs.:

Trek continuing from Manang, the trails passes Tenki Manang, leaving the Marsyangi valley. Along the Jarsang Khola , we reach Yak Kharka at 4,018m. Overnight in Lodge.

Day 12: Yak Kharka - Thorung Phedi (4450m) 03:00hrs.:

After breakfast, 03 hours walk the trail cross the river at 4,310m.You climb up to Thorung Phedi (4450m). Overnight in Lodge.

Day 13: Thorung Phedi - Thorung La (5416m) - Muktinath (3760m) 08:00hrs.:

Today is the main difficult day in the whole trip. We early morning wake up around 04 am to reach the pass by 08/09 am otherwise strong winds will affect the journey to Thorung La Pass (5416m). Sometimes problems may arise due to the bad weather and altitude and often covered by heavy snow to the passes. Around 04 hours climb up to the pass; you will see stunning views from the top of the Thorungla. Another 04 hours of trekking you will reached the holy town of Muktinath. Muktinath means place of Nirvana. It is said that all trouble you feel are comforted when visiting the Temple, which is a scared pilgrimage site for both Hindus and Buddhist. The Temple is dedicated to Lord Vishnu. Temple has 108 waterspouts around it. Another attraction nearby the Temple which has a beautiful natural spring and an eternal flame fueled by natural gas. The main pilgrimage month is September. Overnight in Lodge.

Day 14: Muktinath - Jomsom, (2720m) 05:00hrs.:

Today you will trek down to headquarter of Mustang district Jomsom. Jomsom is an ancient town and residents of Thakalis. This is a primarily an administrative and commercial center with government officials. Overnight in Lodge.

Day 15: Jomsom – Larjung (2550m) 04:00hrs.:

From Jomsom trek to Marpha which is very famous for apple all over the world. This is a small beautiful village full of typical Thakalis and Tibetans. Continuous trek along the Kaligandaki river, you will reach Tukuche which is famous for distillery of apple. After one hour trek you will reach to Larjung. Overnight in Lodge.

Day 16: Larjung- Ghasa (2010m) 04:00hrs.:

Today you will cross the Kaligandaki river on a bridge and start to trek along the small village with pine forest. After two hours you will reached Kalopani. You will have lunch at Kalopani and continues trekking to dense forest to Ghasa. After two hours you will reach Ghasa. Today you can explore deepest gorge of the Earth at Ghasa. Overnight in Lodge.

Day 17: Ghasa - Tatopani, (1190m) 05:00hrs.:

After breakfast, trek to Tatopani seeing enormous views of Annapurna South and Neelgiri and many waterfalls. After trekking about 04 hours, you will reach to Tatopani. Tatopani is named as a hot spring, where you can get a natural hot water all the time. People believed that can cure there disease naturally by getting bath in this water. Overnight in Lodge.

Day 18: Tatopani – Shikha (1935m) 04:00hrs.:

After breakfast trek 04 hours you will reach beautiful village Shikha (1935). You can explore local people lifestyle. Overnight in Lodge

Day 19: Shikha - Ghorepani, (2850m) 04:00hrs.:

Today trek to Ghorepani. It takes 04 hours to Ghorepani. From Ghorepani you can see the whole Annapurna range and the typical Magar village. You can get cultural knowledge and lifestyles of the Magar people on the way to Ghorepani. Overnight in Lodge.

Day 20: Ghorepani –Poonhil (3200m) - Nayapul (1070m)-Pokhara 07:00hrs.:

Early morning hike to Poonhill, You will see the magnificent view of Annapurna Himalayan range. After breakfast at Ghorepani trek through the dense forest of rhododendron to Banthanti. Trek continues down to Ulleri where you have to follow the stone staircase. On the way to Birethanti. You can see the wonderful view of lowlands gorge and Annapurna south including the rice terraces. Our trek end at Nayapul and drive to Pokhara, evening free. Overnigh in Lodge.

Day 21: Pokhara – Kathmandu::

Drive by Car / Van / Tourist Bus (6:00hrs) or Fly (25minutes).

Day 22: Kathmandu – Departure::

Departure transfer to onward destination.