Annapurna Short Trek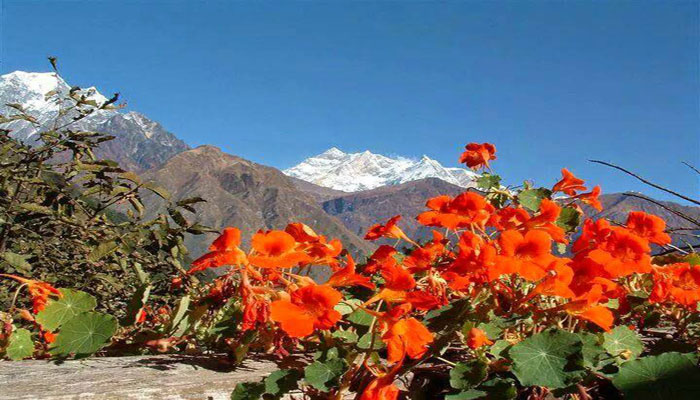 Annapurna Short Trek, walking effortlessly on the foot of some tallest Himalayas in the world is no more a distant dream for globe trotters. If you are in time constrains and have limited physical abilities and yet wish to see the most striking mountain panorama the trails of Annapurna will quench your thirst for adventure.
Annapurna Short trek in no time takes you to one of the most beautiful cities Pokhara, and further down the road to lustrous hills, blanketed by one of the most beautiful blossoms of Rhododendron, through the pine scented trails with intermingling settlements of indigenous tribes, the fascinating biodiversity and last but not the least some beautiful saw-toothed and snow draped peaks of the Annapurna massif.
This tremendous journey begins from the prehistoric city of Kathmandu, followed by the most beautiful city of Pokhara. After screening the city of lakes where shadows of the mountains are prominent, we embark on vehicle to Phedi and further down on the trails to Dhampus. The road to Phedi which already is pretty interesting further sweeps you off your feet once you make your way through the beautiful trails of Rhododendron and sparse houses of indigenous Gurungs. The heart melting rituals, once we reach Dhampus and the mountains setting the center stage makes this trek one of the best decisions in your life.
With the views of bustling Pokhara city towards the south, we head forward towards Australian camp. Australian camp is the trekkers delight as it offers a magnificent view in that range elevation. Further we head to Sarangkot which is an adventure sport hub and is the highest hill surround Pokhara valley. Sarangkot is well renowned hilltop which offers a hawk eye view of the city and the lake to the south and the mountains of the Annapurna region to the north.
Join Himalayas Facts Holidays to this Annapurna short trek and experience what many do in longer course of time!
Day 01: Arrive in Kathmandu:

On this day you arrive to Kathmandu and we transfer you to your hotel. After arriving at the hotel you rest and rejuvenate and observe the locality. A member of Himalayas Facts Holidays will brief about the itinerary on this same day.

Day 02: Sightseeing in Kathmandu city and Patan City::

While our backend personnel will be busy making arrangements for the day to come, we would take the privilege to go around the city and look at some interesting historical relics. On this day we would visit Swayambunath; famous as monkey temple as well, Basantapur Durbar Square; an ancient palace courtyard, and Patan Durbar Square.

Day 03: Kathmandu- Pokhara::

Kathamndu -Pokhara ( 820m) 06:00hrs drive or 25 minutes fly.

Day 04: Pokhara- Australian Camp (2060m) 03 hrs.:

We drive past lovely farmland and villages to reach Naudanda. From Naudanda we trek through beautiful forest of Rodenderon. after 03 hours walking we reached Australian camp. From Australian camp you will see the scenic spectacular views of Annapurna Himalayan range. Overnight in lodge.

Day 05: Australian Camp – Dhampus (1650m) 02 hrs.:

Today after breakfast, 02 hours trek you will reach Dhampus village.From Dhampus you can see spectacular view of Annapurna range, Fishtail, Dhaulagiri , Hiunchuli, Lanjung Himal and other peaks. Dhampus is quiet and amazingly beautiful which is ideal place to spend time with beautiful nature. Dhampus is not just a mountain view point but a culturally rich village of the ethnic mixed people. You will also have an opportunity to explore lifestyle of local people. From Dhampus you can see the beautiful sunset and sunrise on the Himalayas. Overnight in Lodge.

Day 06: Dhampus- Phedi (828m)-Pokhara (820m) 03 hrs.:

After breakfast, trek down through the forest to Phedi. From Phedi you will drive 30 minutes by vehicle to Pokhara(820m). Afternoon free, personal activities. Overnight in Lodge.

Day 07: Pokhara – Kathmandu::

Drive by Car / Van / Tourist Bus (6:00hrs) or Fly (25minutes).

Day 08: Kathmandu-Departure::

Departure transfer to onward destination.