Himalaya Highlights Tours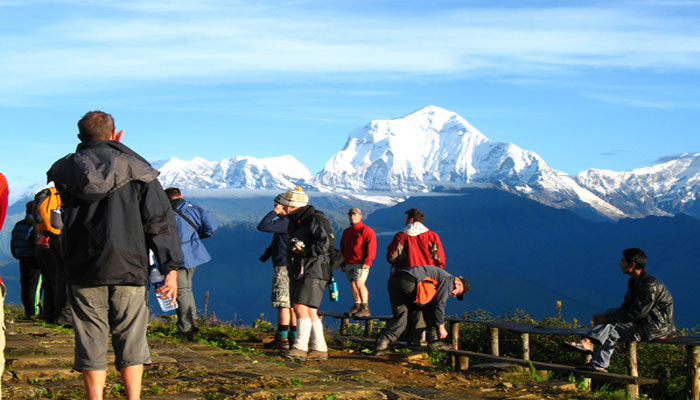 Himalaya highlights tours is a handmade tour in Nepal and offers an excellent fix for travelers who are interested in entry level hiking and trekking and who do not come with suffice time in their itinerary. This tour takes you to one of the best hiking spots surrounding Kathmandu valley.
Himalaya highlights tours has its own fun but what add to that is the sparse communities we witness on the way to the top and the way of life. The prospect of being exposed to vivid flora and wildlife of Shivapuri – Nagarjuna national park, the streams gushing down making its way through the trails, the hidden lakes and finally the view of the mountains extending as far as the peaks of Annapurna region on the west and as far as the Everest in the east.
Making our way through the major tributaries to Pokhara has its own Charm. The highway which is no less than adventure itself and the roadside bustling cities and villages and the way of people's life on one of the busiest highways are some rare view to watch. Pokhara which is also known as the city of lakes has its own charm and it has a tendency to sweep you from your feet by the intimidating views of the mountains in the Annapurna region, at every doorsteps, balcony and terrace.
This tour requires no previous hiking or trekking experience and to add up no altitude sickness yet a beautiful view of the Annapurna massif, specially from Dhampus or the Australian camp.
Day 01: Arrival in Kathmandu:

On this day you arrive to Kathmandu and we transfer you to your hotel. After arriving at the hotel you rest and rejuvenate and observe the locality. A member of Himalayas facts holidays will brief about the itinerary on this same day.

Day 02: Sightseeing in Kathmandu Valley:

While our back end personnel will be busy making arrangements for the day to come, we would take the privilege to go around the city and look at some interesting historical relics. On this day we would visit Swayambunath; famous as monkey temple as well, Basantapur Durbar Square; an ancient palace courtyard, and Patan Durbar Square.

Day 03: Drive to Sundarijal & Hike to Chisapani:

We begin our day early as usual and drive around 15 km northeast from Kathmandu. Sundarijal is one of the most natural locations, very close to the hectic capital city and covers 5.18 area in square kilometers. Once we enter Sundarijal, we majorly on the trails in Shivapuri National park and the lush green forest of the protected area, the falls and Bagmati river making our way to Chisapani. It is very likely to come across small animals and birds.

Day 04: Chisapani to Nagarkot:

Although we can hike our way back from where we started, it is highly recommended to trek from Chisapani to Nagarkot. The trail is very easy and could be perfect for novice hiker and making our way through flower scented trails and the blossoms of Rhododendron is very beautiful experience. The view of some of the beautiful ranges on the north provides vigor to walk towards our destination.

Day 05: Nagarkot to Pokhara:

After viewing magnificent sunrise over the Himalayas and grabbing our breakfast we make our way to Pokhara . Pokhara  is a very beautiful destination which offers close view of mountains in Annapurna Massif. Although it depends on traffic condition, it usually takes around 06 hours of drive.

Day 06: Hike to Australian camp or Dhampus:

The hike starts early after hot breakfast in Pokhara. We take a vehicle and drive for about 45 minutes to the root of a hill, named as Phedi. We start our sheer climb time and again in rugged as well as on manmade steps for another 45 minute through this beautiful green subtropical forest. The village homes beautiful ethnic community in their tinned roof houses with the beautiful view of Annapurna region. The other destination Australian base camp is equally beautiful destination which is located on a ridge an hour further from Dhampus. Australian camp offers beautiful view of Annapurna South, Hiunchuli, Machapuchhre and Lamjung himal.

Day 07: Dhampus to Pokhara:

After early breakfast we start hiking down from Dhampus. About 45 minutes walking down you will find our private vehicle and transfer to Pokhara city. Afternoon visit Seti Georg and David falls, evening 01 hour boating at Phewa lake. Overnight in Hotel.

Day 08: Pokhara- Kathmandu:

On this day we have our breakfast by 7:00 a.m. in the morning and make our way towards toward Kathmandu. The drive takes around 06 hours through bends of lush green hilly terrain and along the major tributaries, with couple of breaks in between for snacks and lunch.

Day 09: Kathmandu Free day:

On this day you can either do the errands. This day would be perfect for strolling around the market of Thamel for shopping, food and picturing lives of people making their way through the bustling crowd.

Day 10: Departure transfer:

We help you transfer to the airport according to the schedule of your flight. With heavy heart as a result of departure and on the contrary excitement of seeing in future we wave off for this time.
What our clients say?