Upper Mustang Trek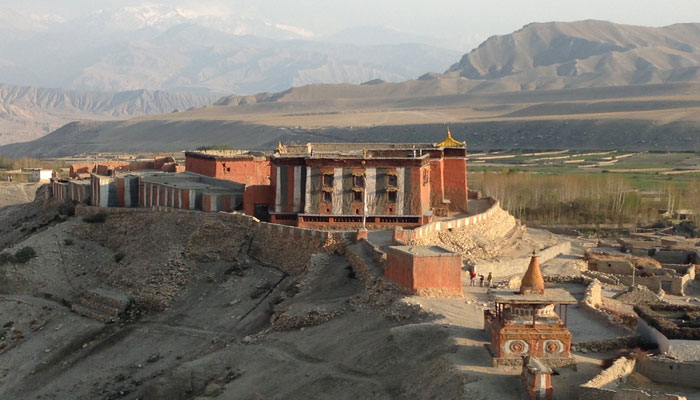 Upper Mustang trek are no words to describe the natural presence, in abundance, of Mustang. Mustang also known as the last forbidden kingdom was restricted to tourist for a long time until it became open recently for the world. Mustang is dry, arid and deserted land and is a part of Tibetan plateau, which lies in the north part of Nepal. Despite its arid and dry landscape one would easily be captivated by its somberly beautiful landscape.
Unfrequented by travelers unlike other famous trails, Upper Mustang trek is serene and equally scenic. The indigenous communities of Thakalis who have preserved Tibetan culture to the original and one of the biggest tributaries in the country namely Kali Gandaki originates from Mustang. This land close to Annapurna on the south extends to the Tibetan plateau to the north and falls under the Annapurna conservation area.
Tiji and Yartung is a popular festival celebrated in Upper Mustang and is as rustic as the ambiance and presence of the place and dates back to the time of guru Rimpoche. These festivals are rare and are only practiced in Lo – Manthang. Upper Mustang's has a very fascinating landscape which time and again astonish travelers if they are trekking or gazing at a fresco. In addition this land which is often compared to Shangri – La or Shambha – La is the home of honeycombs of caves, built at the time of conflict between China and Tibet, when the Buddhist practices and principle were threatened has beautiful murals which depict the life of Buddha.
The people of upper mustang who call themselves as Lopa, which means the people of Lo- Manthang, are some of the warmest people on the earth and are not really affected by the amenities of the world. The heart melting reception, the rustic mud walled houses, the everlasting monasteries known as Gompas and finally the striking Himalayas of the Nilgiri range makes this one adventure packed trekking in Nepal.
Day 01: Arrive in Kathmandu:

On this day you arrive to Kathmandu and we transfer you to your hotel. After arriving at the hotel you rest and rejuvenate and observe the locality. A member of Himalayas Facts Holidays will brief about the itinerary on this same day.

Day 02: Sightseeing in Kathmandu city and Patan City::

While our backend personnel will be busy making arrangements for the day to come, we would take the privilege to go around the city and look at some interesting historical relics. On this day we would visit Swayambunath; famous as monkey temple as well, Basantapur Durbar Square; an ancient palace courtyard, and Patan Durbar Square.

Day 03: Kathmandu - Pokhara (820m.):

Today, drive from Kathmandu to Pokhara (200km) and evening boating at Phewa lake. Overnight in hotel (06 hours drive by bus or 25 minutes flight)

Day 04: Pokhara - Jomsom (2720m).:

Early morning fly to Jomsom 25 minutes over the mountains with panoramic views of Annapurna & Dhaulagiri, take you at Jomsom, the district headquarter of Mustang. After four hours of easy walk brings you to Kagbeni, which lies at the bank of Kaligandaki and Kagbeni rivers. Kagbeni was himalayan salt trade route to Tibet via Upper Mustang in earlier time. Overnight in Kagbeni.

Day 05: Kagbeni - Chele (3050m) 07 hours::

After check special permit, we passes restrict area, we reach Tangbe village with fields of buckwheat, barley, wheat and apple orchards. We head on to reached at Chele village. Overnight in Chele.

Day 06: Chele - Syanbochen (3475m) 06 hours::

Today, we start our trek through Ekle Bhatti, crossing Taklam La Pass (3,624m) with views of Tilicho Peak and Damodar Danda. We relax along the surrounding of cool streams and juniper trees. We pass by famously known Ramchung Cave. Reached to Syanbochen overnight.

Day 07: Syanbochen - Ghami (3520m) 05 hours::

After breakfast, walk uphill to the Amda La (3850m) crossing chortens and local villages which is like Tibetan style of house. We cross mountain passes, and an avenue of poplar trees and fields of Barley. We follow the 3rd largest village in the Lo- region to Ghami, which is bounded by large fields most of which are deserted. Overnight in Ghami.

Day 08: Ghami - Charang (3560m)04 hours::

Today starts pleasant walk crossing to Ghami Khola, the trail passes beside a very long Mani wall, a sacred stone wall made by the devotee of Buddhism. The trail heads east to the village of Charang with a maze of fields. Overnight in Charang.

Day 09: Charang - Lo-Mangthang (3809m) 04 hours::

After breakfast, we trek to Lo-Mangthang with a magnificent view of Nilgiri, Tilicho, Annapurna I and Bhrikuti peak. We climb to the Lho (3,850m) pass, where you can see the Lo-Mangthang Valley which is walled city appear with  hills on the Tibetan Border. Overnight in Lo-Mangthang.

Day 10: Explore Lho-Mangthang::

Today, we exploring the surroundings areas, visit Namgyal Gompa, Tingkhar, the Red Thugchen Gompa, Chyodi Gompa and the entrance hall which are the main attraction of this area. Another attraction is the four storey building of the Kings's palace and views of the Himalaya. Overnight in Lho- Mangthang.

Day 11: Lho-Manthang - Ghami (3520m) 07 hours::

Today we leave Lho Manthang, starting with challenging climb uphill over Pangga at 4090m, from here it's thrilling downhill road to Dhakmar, with dramatic landscapes, head on to Ghami. Overnigh in Ghami.

Day 12: Ghami - Samar (3660m) 06 hours::

After breakfast, heading back on same trail  the single track uphill climb followed by a downhill to Syangboche. Overnight in Samar.

Day 13: Samar - Kagbeni (2810m) 06 hours::

After breakfast, the trail takes you over Daroji La (3735m) and Takma La (3624m) passing the trail head back into the Annapurna region, a steady ride along the river taking back to Kagbeni. Overnight in Kagbeni.

Day 14: Kagbeni -Jomsom (2720m) 02 hours::

After breakfast, we fallow the Kaligandaki riverbank to the Jomsom for a last night of our trek, Here is an option to explore around Muktinath, if you could one more extra day. Overnight in Jomsom.

Day 15: Jomsom – Pokhara (833m):

Early morning picturesque flight for 25 minutes takes you to the Pokhara city, when we arrive at Pokhara transfer to Pokhara hotel for overnight stay. Afternoon free, explore around Pokhara. Overnight in Pokhara.

Day 16: Pokhara – Kathmandu (1310m) 06 hours.:

After breakfast, drive 06 hours (200km) enjoying the river side view with farm lands. Evening free. Overnight in Kathmandu.

Day 17: Free day in Kathmandu::

Today you can explore Kathmandu city by own, shopping and roaming, Overnight.

Day 18: Departure::

Departure transfer to international airport for your own destinations.