Langtang Valley Trek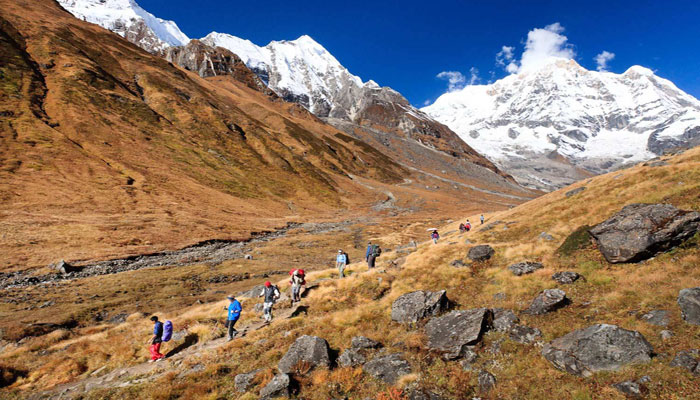 Langtang valley trek- the mountains that are visible from the Kathmandu valley towards the north is none other than the Langtang. Majority of Langtang is the Himalayas, the sacred lakes of Gosainkunda, the valley of Langtang and the Sherpa dwellings of Helambu. Langtang panorama trek is as vibrant as the Langtang itself and it comprises of trails on bamboo groves, monsoon wildflowers and spring time blossoms.
Logistically easy, no prior experience required almost no altitude hassle, culture displaying teahouses and no flights make this trek perfectly put up together. Helambu is also the home Hyolmo's, commonly known as Sherpa and Helambu is the only place other than the Everest region where sherpa's dwell, and their farmland is something worth not missing.
Langtang is also known for the best blossoms of Rhododendron. The forested hills of Langtang national park which perfectly intermingles with villages are blanketed by every hue of Rhododendron in season, Langtang valley trek trails which we walk in the alpine region is strikingly fragranced by the Pine trees. These dense woods make a perfect home to Langoor monkey, deers and rare red pandas.
Langtang comprises of some wonderful mountains like Sisha pangma, Langtang lirung, Langtang Ri, Dorje Lakpa, whereas Langtang heritage trail embraces beautiful community of Tamangs; mountain settlers of Tibeto-Burman race and the frescos, prayer flags and the monasteries of the Helambu makes this trek a very mesmerizing experience.
Day 01: Arrive in Kathmandu:

On this day you arrive to Kathmandu and we transfer you to your hotel. After arriving at the hotel you rest and rejuvenate and observe the locality. A member of Himalayas Facts Holidays will brief about the itinerary on this same day.

Day 02: Sightseeing in Kathmandu city and Patan City::

While our back end personnel will be busy making arrangements for the day to come, we would take the privilege to go around the city and look at some interesting historical relics. On this day we would visit Swayambunath; famous as monkey temple as well, Basantapur Durbar Square; an ancient palace courtyard, and Patan Durbar Square.

Day 03: Kathmandu - Syabrubesi (1460m) drive 08:00hrs.:

After breakfast, 08 hours drive to Syabrubeshi (1460m.) Overnight.

Day 04: Syabrubesi - Lama hotel (2340m) 06:00hrs.:

After one hour trek from Syabrubensi, we will reach village of Wangal. From here a trail twigs off straight eastwards to Rasuwa Ghadhi. The climb is steep for an hour through thick forest and continues straight walk, reached Lama hotel. Overnight.

Day 05: Lama hotel - Langtang (3370m) 05:00hrs.:

After breakfast, the trail then navigates up and down through the forest to Ghoratabela. From Ghoratabela once more a short climb bring to you Langtang valley. Overnight.

Day 06: Langtang - Kyanging Gomba (3730m) 03:00hrs.:

After breakfast, trek nearly three hours to Kyangjing Gompa. Overnight.

Day 07: Kyanging - Rest day, explore the surroundings.:

Today you can explore the surrounding the Kyanjing Gomba, you can visit Kyanjing Monastery and Yala Cheese factory. Overnight.

Day 08: Kyanging - Ghora Tabela (3020m) 05:00hrs.:

After an excellent view from Kyangjing Gomba. We trek back to Ghoratabela. Overnight.

Day 09: Ghora Tabela - Syabrubesi (1460m) 06:00hrs.:

Trek back through same way to Syabrubeshi. Overnight.

Day 10: Syabrubesi - Kathmandu (1310m) drive 08:00hrs.:

After breakfast, drive back to Kathmandu 08 hours. Overnight.

Day 11: Kathmandu – Departure::

Departure transfer to onward destination.