Bike Tour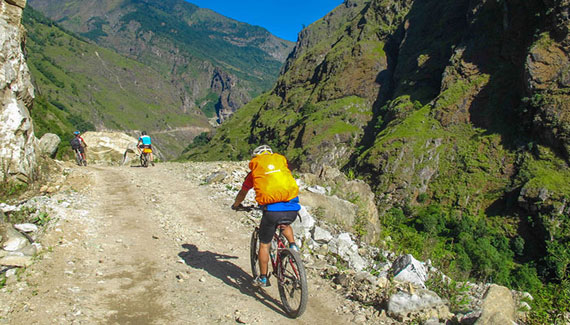 The topography of Nepal is such that it is possible to mountain bike tour almost everywhere anywhere. There are ancient cities built years back have excellent alleys which makes good track for cycling and the geographical formation of this country makes Nepal a biker's pilgrimage. The country offers riding conditions to every type of riders from beginners to world class. Not only the riding conditions offered is unique but also the trail in the country makes Nepal an unpaired destination in the world.
Some of the most popular bike tour trails offered in the Himalayas are Upper Mustang or Lomanthang and the Annapurna circuit. Other Popular trails in the hills include single tracks on the outskirts of popular cities Kathmandu and Pokhara. The hills are not as strenuous as the Himalayas, it still tests your skills to the best. Some tracks that we entertain our guests on are used for national downhill competition and majority of it makes its way from beautiful lush green forest and ethnic settlements.
There are comparatively easy bike tour rides as well and in Terai or the flat lower lands. You would be able to see that the Terai land is flat enough that cycles make the best commuter of the inhabitants in the region. The popular regions for cycling are Chitwan national park, Bardiya National Park and Lumbini region. Riding in the national parks are fun where trees provides natural shades and cool breezes. Riding around the religious site of Lumbini can only be done in the mornings or the evenings because it is hot and humid in the day time. Cycling around Lumbini also would be a convenient way to commute as the temples built by different countries are scattered throughout the area. Nepal is home to mountain biking and it offers trail to all category of mountain bike riders. Let Himalayas facts holidays design the itinerary for your cycling holidays in Nepal!
Day 01: Arrival in Kathmandu:

Arrival transfer with assistance to hotel and Overnight.

Day 02: Kathmandu Sightseeing:

After breakfast, visit Kathmandu city, Swoyambhunath ( Monkey Temple) and Patan city.

Day 03: Kathmandu- Pokhara:

After breakfast, drive 200 kilometers to Pokhara around 06 hours. Afternoon 01 hours boating at Phewa Lake and half day Pokhara city tour. Overnight in hotel.

Day 04: Pokhara - Jomsom - Kagbeni Bike Ride:

Early morning around 06 am fly to Jomsom. We will proceed to bike tour ride the relatively flat river trail to Kagbeni, the border-town of the forbidden Kingdom Mustang. Overnight in Kagbeni.

Day 05: Bike ride from Kagbeni to Muktinath:

After breakfast, proceed bike ride to Muktinath holy hindu temple. This is the highest point of this trip. The landscape is extremely dry and desert-like. Overnight in Muktinath.

Day 06: Bike ride from Muktinath to Marpha Village:

After breakfast, seeing stunning views of the Dhaulagiri and several other above 8,000 meters Himalayas. On the way we pass yak herds and experience the centuries-old lifestyle of the local people. We will reached in Marpha village – a picturesque community known for its apple orchards. Marpha village is a popular for apple farming. You can enjoy with some local apply wine and brandy. Overnight in a tea house lodge.

Day 07: Bike ride from Marpha to Tatopani:

After breakfast, with a fantastic view, we begin our descent towards  to Tato Pani which is the local language meaning hot water. At the end of the ride, you can relaxed in the natural hot spring, which is located besides the Kali Gandaki River. Overnight in a tea house lodge.

Day 08: Ride from Tatopani to Sarangkot Hill:

We ride descending further down towards Beni following the Kali Gandaki River. We follow the Baglung highway up to Nau Danda and then take ride the dirt road to Sarangkot Hill, which is the famous viewpoint in Pokhara to enjoy the views of the Himalayas along with the sunrise and sunset. Overnight at a hotel.

Day 09: Ride from Sarangkot Hill to Pokhara City:

After seeing sunrise view from Sarangkot hill, we ride through a steep and narrow trail to Pokhara. Make sure you check your brakes before you start a 90% downhill ride to Pokhara. Overnight in a Hotel.

Day 10: Pokhara- Kathmandu:

After breakfast, we drive back to Kathmandu but if you have time then  option to extend your trip to continue on to Chitwan jungle safari. After reaching Kathmandu, we host a farewell dinner in a typical Nepali-style restaurant with cultural performances (dancing and singing with costumes) celebrate ou achievement in the biking trip in Nepal. Overnight in a Hotel.

Day 01: Kathmandu - Departure:

After breakfast, free till departure.