Annapurna Base Camp Trek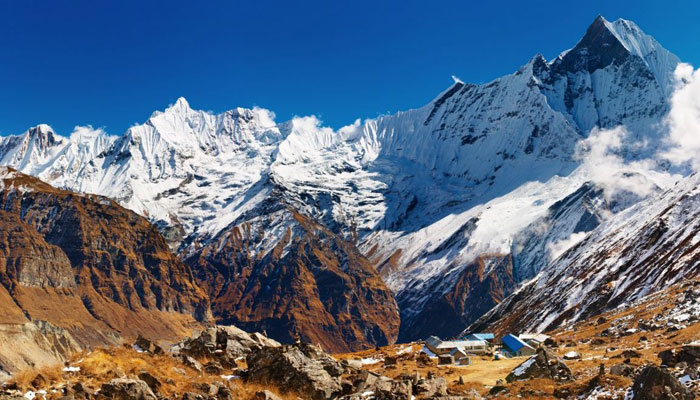 Annapurna base camp trek is the favorite amongst the trekkers, since the evolution of trekking in Nepal, since the 1990's. Annapurna has one of the most vivid landscapes and covers a vast area which homes one of the most beautiful bio-diversities. Majority of Annapurna base camp trek falls under Annapurna Sanctuary, which is a protected region.
Annapurna base camp trek can be initiated from different places but the most favorable and practiced destination is Nayapul. From Nayapul we embark on the trails of Annapurna, making our way on some beautiful man made trails and into the natural one surrounded by gorgeous Rhododendron and Pine forest. Annapurna is amongst few destinations which is completely inhabited and the teahouses in abundance makes it a pleasure stroll.
The region is inhabited by indigenous communities of Gurung and Magar and they dwell in a very unique house made out of stones and thatched roofs. They have their respective culture, proceedings, culinary and way of life and the teahouse mode of accommodation allow you to interact with the residents and exchange words about lifestyle. The intermingling of the Rhododendron and fine forest with the villages, the wildlife of the Annapurna sanctuary, the birds and the butterfly and last but not the least the terrace farming and the flourishing hills with waterfalls and streams pushing down almost every edges makes this region the amphitheatre of nature.

The trails are equally none demanding where as on the other hand the mountains and the Himalayan panorama is fascinating. Throughout the trail, after certain altitude, the mountains never leave you behind and the trekking on the trails become a hide and seeks between you and the mountains. Annapurna I, Dhaulagiri, Machapuchre, Hiuchuli, lamjung Himal are some names in the list out of many.
Come join Himalayas facts holidays in the journey of Annapurna base camp trek and find out for yourself for what reason this destination is stealing all the attention, in Nepal.
Day 01: Arrive Kathmandu (1,350 m):

On this day you arrive to Kathmandu and we transfer you to your hotel. After arriving at the hotel you rest and rejuvenate and observe the locality. A member of Himalayas facts holidays will brief about the itinerary on this same day.

Day 02: Visit Kathmandu:

While our backend personnel will be busy making arrangements for the day to come, we would take the privilege to go around the city and look at some interesting historical relics. On this day we would visit Swayambunath; famous as monkey temple as well, Basantapur Durbar Square; an ancient palace courtyard, and Patan Durbar Square.

Day 03: Kathmandu- Pokhara (820 m)::

After breakfast, scenic 06 hours drive through Prithvi highway by tourist bus or private vehicle or 25 minutes Fly.

Day 04: Pokhara- Tikhedhunga (1500 m)::

After breakfast, drive to Naya pul and trek to Tikhedhunga 04 hours , a large and flourishing town beside the Modi River. We head up the main trail to Sudami where we climb gradually up the side of the valley, reaching Hile (1430m) before close to Tikhe dhunga. Overnight in lodge.

Day 05: Tikhe Dhunga - Ghorepani ( 2850 m) 6:00 hrs.:

Today we trek through rhododendron and oak forests and across streams before making a short climb to Nangethanti. From Nangethanti we go up to Ghorepani. Overnight in Lodge.

Day 06: Ghorepani - Poon Hill (3200m) – Tadapani (2520m) 06hrs.:

Early morning little bit hike to Poon hill to see the panoramic views of Annapurna, Dhaulagiri, Lamjung and beautiful sunrise in all over the Himalayas. Back to hotel and have breakfast, trek towards to Tadapani along the ridges of rhododendron and pine forest. Overnight in Lodge.

Day 07: Tadapani - Chhomrong (2170m) 05:00hrs.:

Today we walk towards to Chhomrong crossing through the village of Gurung, rhododendron and pine forest. Chhomrong offers you close views of Mt. Annapurna south, Himchuli and Mt. Fishtail. Overnight in Lodge.

Day 08: Chhomrong – Dovan (2600mt) 05:30hrs.:

We sliding down to Chhomrong stream, and again heading up to Dovan crossing through hushed rhododendron forest. Overnight in Lodge.

Day 09: Dovan – Machha Puchre Base Camp (3700m/) 05:00hrs.:

Today we follow the trail upwards, passing Himalaya hotel (2920m), seeing splendid view of mountains and closer view of Machhapuchhre (Mt. Fishtail). Overnight in Machhapuchre base camp (3700m).

Day 10: Machha Puchre Base Camp – Annapurna Base Camp (4130m) – Himalaya Hotel (2920m) 06hrs.:

Today just 02 hours trek to reach Annapurna base camp.The area gives you spectacular views of the Himalayas including Annapurna I, Annapurna South, Barah Shikhar and many more. After seeing spectacular view of Himalayas, we trek back to the Himalaya hotel 04 hours. Overnight in Lodge.

Day 11: Himalaya Hotel – Sinuwa (2340m) 05:00hrs.:

Today move down through dovan and bamboo. The trek continues through beautiful rhododendron forests and down to Sinuwa. Overnight in Lodge.

Day 12: Sinuwa – Jhinu Danda ( Hot Spring) (1760m) 05:00hrs.:

From Sinuwa following the trails will move towards the Chomrong and then move down to Jhinu Danda. Overnight in Lodge.

Day 13: Jhinu danda - Ghandrung (1940m) 05:00hrs.:

After breakfast, we will descend through the terrace fields viewing Jhinu Danda and Chhomrong village from top of the ridge,continius trek through the dense forest of rhododendron viewing scenic Landruk and Ghandruk village until reaching Ghandruk. Ghandruk is a village of Gurung communities, you can explore old traditional Gurung musem and Buddhist monastery. Overnight in Lodge.

Day 14: Ghandrung – Pokhara (820m) 06:00hrs.:

Today morning we will leave the Ghandruk village and walk down to the Syaulibazar, continues trek down plain dusty road way along the Modi river to Birethanti, we will have have lunch here and trek to Nayapul. From Nayapul drive to pokhara 02 hours. Overnight in lodge.

Day 15: Pokhara – Kathmandu::

Drive by private vehicle / tourist bus (6:00 hrs) or fly 25 minutes.

Day 16: Kathmandu- Departure::

Departure transfer to onward destination.
What our clients say?