Bungee Jumping Nepal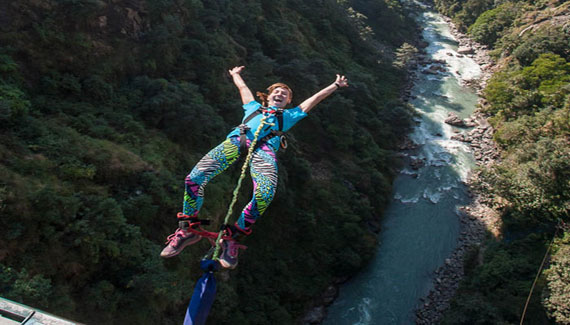 Bungee Jumping Nepal, the adventures keep on adding in Nepal every year but it was bungee jumping and some other activities which created a benchmark and a buzz about adventurous countries in the world. This heart pounding quest takes place in the gorge created by hills soaring above 2000m in the district of Sindhupalchowk. Right below from the bridge where one jumps bungee has a raging river namely Bhotekoshi, gushing down to the plains.
Bungee Jumping Nepal is located around 35 kilometers northeast from the capital city in Kathmandu and 12 kilometers southwest of the Chinese border of Khasa. This thrilling adventure sport when launched in 1999 made it to the top 10 highest bungee jumps in the world, falling right behind Niouc Bridge in Switzerland. Many top notch travel magazines and adventure sports article writes quote Bhotekoshi Bungee as one of the best in the world.
Very few bungee jumps are natural and are located in natural ambiance and dive straight down towards one of the most powerful trans-border rivers. Surrounded by lush green hills, this spot as well provides as an ideal location for family holiday. Bungee jumping can be added as a part of your trekking itinerary!
Day 01: Arrive in Kathmandu:

On this day you arrive to Kathmandu and we transfer you to your hotel. After arriving at the hotel you rest and rejuvenate and observe the locality. A member of Himalayas Facts Holidays will brief about the itinerary on this same day.

Day 02: Sightseeing in Kathmandu city and Patan City::

While our backend personnel will be busy making arrangements for the day to come, we would take the privilege to go around the city and look at some interesting historical relics. On this day we would visit Swayambunath stupa, famous as monkey temple as well, Basantapur Durbar Square, an ancient palace courtyard, and Patan Durbar Square world heritage sites.

Day 03: Kathamndu - The Last Resort ( Bungy Jump Station)::

Early morning 05:45 a.m. Bus drive through Araniko Highway (Kathmandu-Tibet Border) 3.5 hours about 100 km from Kathmandu, just near 12 km from Tibetan border. After arrival give brief about the bungy Jump. You will jump from steel suspension bridge 160m wide over the Bhotekoshi River. Once finished bungy jump you will have lunch at the resort and drive back to Kathmandu arrived arround 08 Pm Evening, Overninght at Hotel. ( We can extend 01 overnight in last resort and rafting trip for next day on the Bhotekoshi River as per the clients interest.)  

Day 04: Departure from Kathmandu:

We help you transfer to the Airport according to the schedule of your flight. With heavy heart and excitement of seeing in future we wave off for this time.