Everest Mountain Flight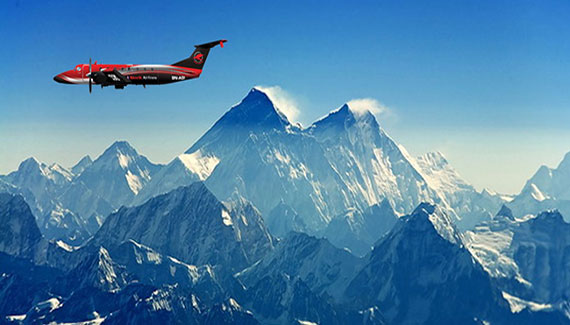 Everest mountain flight may not be as adventurous experience as trekking in Nepal but it surely will shoot to thrill and give you goose bumps. Mountain flight in Nepal was at first initiated to unveil the true face of the Himalayas in Nepal and it has been continuing its service since then for the same and has been making people happy.
Everest mountain flight is meant for all enthusiasts, for people in time crunch and for the mountain lovers. When trekking in Nepal, it is certain trail you walk on and there are certain ranges of mountains you will witness but in mountain flights you will see a wide range of Himalayas spread throughout the terrain, most significantly the peaks in Everest region.
Mountain flights are only carried out early in the morning and can be done throughout the year. There are only few and elite airlines offering the service and no matter whichever airline is offering the service, everybody is entitled to window seat, for better view of the mountain and taking picture. People of any age group can participate, in case of small children you will have to sign an affidavit in front of airline authority. Very close flight to awe-inspiring mountains, wild and undomesticated Nepalese terrain and flying past mount Everest.
Even if you have done walking on the mountains, in any region, you may not want to miss this window seat Everest mountain flight experience!
Day 01: Arrive in Kathmandu.:

On this day you arrive to Kathmandu and we transfer you to your hotel. After arriving at the hotel you rest and rejuvenate and observe the locality. A member of Himalayas Facts Holidays will brief about the itinerary on this same day.

Day 02: Mornig Mountain flight and afternoon City Tour::

Early morning transfer to domestic airport. Mountain flight operate daily morning from 06:30 am to 09:00 am. It will take 45 minutes fly on the sky. After arrival from mountain flight you will have breakfast and afternoon visit Swayambunath stupa, famous as monkey temple as well, Basantapur Durbar Square, an ancient palace courtyard, and Patan Durbar Square world heritage site. Overnight in Hotel.

Day 03: Sightseeing in Kathmandu –Bhaktapur City::

After breakfast, visit  Boudhanath stupa , a Buddhist shrine, visit Pashupatinath temple, a sacred Hindu temple dedicated to god Shiva and  open air cremation platform. Afternoon visit Bhaktapur city. This city is a treasure and unsoiled reflection of medieval Nepal and is an artistic, archaic courtyard. The main appeals of this city is the prehistoric Durbar square, with its 55 windows, the pagoda style houses and temples, the pottery square; where people spend all day making clay pottery, and the unrefined way of life. Overnight in Lodge.

Day 04: Departure from Kathmandu.:

We help you transfer to the Airport according to the schedule of your flight. With heavy heart and excitement of seeing in future we wave off for this time.