Buddhist Pilgrimage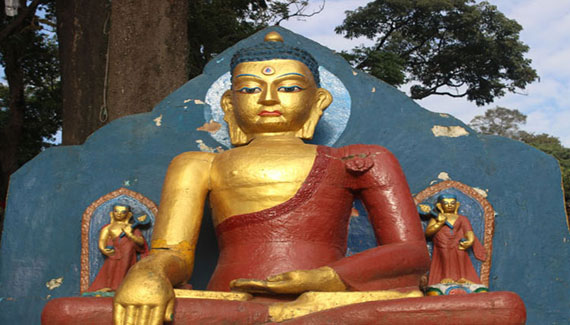 Buddhism has survived in Nepal for more than 2,500 years and it's principles of non-violence and compassion thrives in the northern belt, where mystical practices are believed to exist. Although Nepal is pre-dominantly a Hindu nation, Buddhism has garnered great respect from all sects as homage to Lord Buddha, who was born in Lumbini in the southern plains of Nepal.
There are several holy Buddhist Pilgrimage shrines in Nepal that have been declared as World Heritage Sites by the UNESCO. Among them, Lumbini is the holiest of all for devout Buddhists as there is the Maya Devi Temple where Lord Buddha was born. Lumbini is also important from archeological point of view as it has ancient landmarks, including the Ashok Pillar, named after the great Maurya king of Magadh, India.
Boudhanath Stupa and Swayambhunath Stupa are the two shrines that you should not miss to visit in the Kathmandu valley, the capital city of Nepal. Monasteries in the outskirts of the capital also offer you meditation courses in a serene environment.
Places like Dolpa, Humla, Mustang and Manang in the far-flung mountainous districts are culturally rich in the practice of Tibetan Buddhism.
Day 1: Arrival in Kathmandu:

Arrival transfer with assistance to Hotel. Give brief about the tour program by our office staff. Overnight in the Hotel.

Day 2: Kathmandu Sightseeing:

After breakfast, full Day sightseeing tour to Swayambhunath Stupa (Monkey Temple), Bouddhanath Stupa (South Asian Biggest Stupa), Kopan Monastery (famous place or Meditation) , evening transfer to hotel Overnight.

Day 3: Kathmandu-Dhulikhel- Patan:

After breakfast, drive to Namobuddha visit Monastery.  Afternoon drive back to Kathmandu visit Patan city, Hiranya Varna Mahavir, Rudra Varna Mahavir and Golden temple. Overnight in Hotel.

Day 4: Kathmandu Lumbini (30 min flight/275 kms, 08-09 hrs drive):

After breakfast , transfer to Kathmandu domestic airport and fly to Lumbini or drive 09 hours to Lumbini. Transfer to hotel  and Overnight.

Day 5: Sightseeing in Lumbini, explore the monasteries and temples.:

After breakfast, visit the sacred garden, Mayadevi temple, pond, monasteries and temples built by many countries as Thailand, Burma, China, Srianka, Korea, Germany, France, Japan and many more. Visit peace lamp and other centers as library museum and more. Overnight in Hotel.

Day 6: Lumbini – Kathmandu.:

After breakfast, drive to Bhairahawa airport or Drive back to Kathmandu by private vehicle around 09 hours. Transfer to hotel and Overnight.

Day 7: Kathmandu - Pharping Monastery:

After breakfast, drive to Kirtipur meet with the Nepali people and transfer to Pharping Monastery, you can take part in religious practice with Buddhist monks and back to hotel Overnight.

Day 8: Kathmandu-Departure:

After breakfast free till departure.