Shuklaphanta Wildlife Reserve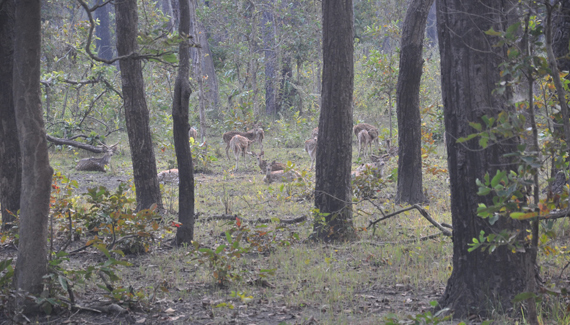 Shuklaphanta Wildlife Reserve covers 305 sq km of Sal forest and grassland having large Swamp Deer group of Asia. This wildlife Reserve is a protected area in the Terai of the Far-Western Region, Kanchanpur district of Nepal.  Shuklaphanta offers a variety of experiences with the diverse wildlife. Forests, rivers, lakes, and several large grasslands (phantas). Sal trees dominate the forests, Khair-Sisso forests are found along the riverside areas. The name of the reserve is derived from the largest of there grasslands, which is known as Shukla Phanta. The reserve shares a common boundary with the Indian State of Utter Pradesh in the South and west which is formed by the Mahakali river. The global habitats of Shuklaphata Wildlife Reserve hold more than 665 plant species belonging to 438 genera and 118 families, which make Shuklaphata Wildlife Reserve as the highest species richness area, reported for any given protected areas in Terai.
Day 01: Arrive in Kathmandu:

On this day you arrive to Kathmandu and we transfer you to your hotel. After arriving at the hotel you rest and rejuvenate and observe the locality. A member of Himalayas Facts Holidays will brief about the itinerary on this same day.

Day 02: Sightseeing in Kathmandu city and Patan City::

While our backend personnel will be busy making arrangements for the day to come, we would take the privilege to go around the city and look at some interesting historical relics. On this day we would visit Swayambunath stupa, famous as monkey temple as well, Basantapur Durbar Square, an ancient palace courtyard, and Patan Durbar Square world heritage sites.

Day 03: Kathmandu- Dhangadhi (fly 01.15 hour and drive 02.00 hours:):

After brreakfast drive to domestic airport, fly 01.15 hour to Dhangadhi and drive 02.00 hours to Shuklaphanta Wildlife Reserve. After arrival at the resort give short breif about the tour package and have lunch.Evening Village walk throug the ethnic tharu village where you can see the life style of tharu people, the local residence people of Terai. Overlight in Resort.

Day 04:Full day in Shuklaphanta::

Elephant back safari and jungle walk.Overnight in Resort.

Day 05: Full day in Shuklaphanta::

Full day Jeep Safari & Bird watching tour. Overnight in Resort.

Day 06:Shuklaphanta-Dhangadhi-Kathmandu::

Early morning short bird watching, back to resort have breakfast and transfer to Dhangadhi Airport. Arrival Kathmandu, free time in Evening. Overnight in Hotel.

Day 07: Departure from Kathmandu:

We help you transfer to the Airport according to the schedule of your flight. With heavy heart and excitement of seeing in future we wave off for this time.