Peak Climbing in Nepal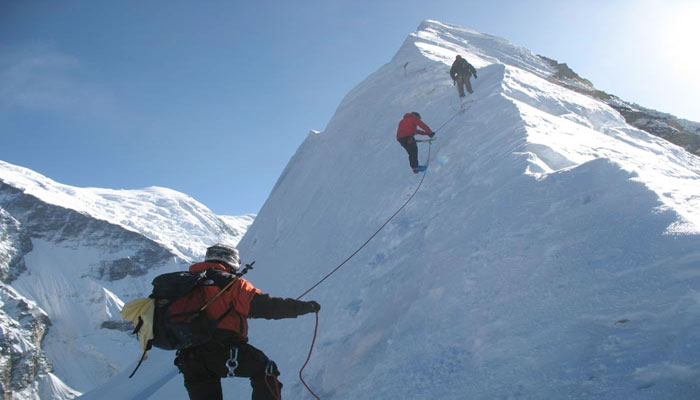 If you are an avid climber, the thirst for your adventure will never be satiated by any of the trekking in Nepal. There is no need of any mountaineering skill until you wish to adventure further down the trekking route to the Peaks. Peak Climbing in Nepal is equally adored as any other ventures although it being very challenging and demanding a lot of skills.
Peak Climbing in Nepal which have been announced open for summit are the small peaks and are lower than 7,000 m. in elevation. Even the smallest of the so called lower peaks open for climbing are most probably higher than the highest peaks in the North America and the Europe. Climbing these peaks as well will push your vertical limits as none of these can be ascended without a proper base camp and fully equipped couple of high camps. The process of escalating all the way to the top and back on the base camp may take 8 – 12 days and the entire trip will take around 3 – 4 weeks.
Some of the popular climbing peaks in the Everest region are Mera peak, Island peak, Lobuche east. Annapurna homes popular peak climbing on Pisang and Chulu east. There are many other popular peak climbing in the Everest, Annapurna, Ganesh, Langtang, Manang and Rolwaling region, which is very popular amongst mountaineers and has been enjoyed for over decades.
Peak Climbing in Nepal are very demanding and demands just more than trekking abilities in the thin air. Other than physical abilities to conquer the zenith of the peak, the trip would require a very good knowledge of mountaineering, including the usage of axe and ropes. There should be an excellent convoy working day and night to make sure of the route and safety and requires various permit from the government of Nepal.
Peak climbing in Nepal one of the highest landmarks on earth can be highly rewarding as well. Ascending to one of these beautiful peaks in any of the locations in the country would showcase you with the views of world's highest mountains. With proper acclimatization in beautiful culture displaying villages at very early stages helps you get the best of nature and culture in Nepal.
We at Himalayas facts holidays have designed countless peak climbing and expedition in Everest, Annapurna and Langtang. It is very important to make sure of you having a right team for this highly professional excursion to ensure accomplishment and safety. We will make your trip hassle free and one of the most remarkable holidays in life. We advise you for the best experience of Everest Base Camp trek and Lobuche east peak climbing combine trip for the life time memorable experience.
Day 01: Arrival Kathmandu (1,350m):

On this day you arrive to Kathmandu and we transfer you to your hotel. After arriving at the hotel you rest and rejuvenate and observe the locality. A member of Himalayas facts holidays will brief about the itinerary on this same day.

Day 02: Visit Kathmandu City:

While our backend personnel will be busy making arrangements for the day to come, we would take the privilege to go around the city and look at some interesting historical relics. On this day we would visit Swayambunath; famous as monkey temple as well, Basantapur Durbar Square; an ancient palace courtyard, and Patan Durbar Square.

Day 03: Kathmandu- Lukla (2840m) - Phakding (2610m) 04hrs:

After breakfast, 35 minute flight to the Tenzing-Hillary Airport at Lukla. We start short hike around 03 hours through the flourishing village of Lukla until we reach to the Phakding.  Overnight in tea lodge.

Day 04: Phakding - Namche Bazaar (3440m) 06hrs:

Today after breakfast, trekking through the pine forest and track leads us along the Dudh Koshi river crossing many suspension bridges. Our first glimpse is Mt.Thamserku (6618 m). We will entry our visit in the check post in Monjo, which is the entrance to the Sagarmatha National Park. The trail climbs through the forests and bridges, after a final steep ascent get first view of Mt. Everest with Lhotse-Nuptse ridge. Finally we arrived gate way to the Mt. Everest, recognized "Namche Bazar " which is the main trading center of this region. Overnight in tea house lodge.

Day 05: Namche Bazaar - rest day for acclimatization:

Today is our acclimatization day. We will explore Namche Bazzar, the main centre of the Everest (Khumbu) region, it has government offices, ATMs, Internet cafes, shops, restaurants and bakery. You can visit the Tourist visitor center near the headquarter of the Sagarmatha National Park where you can observe an variety of things related to the Sherpa culture and learn about the various plant and animal life of the Everest region. Further climb up to the famous airfield at Syangboche, where you can see the Everest View Hotel, from there you will see great views of the highest mountains on Earth " Mount Everest". We trek back down to the Namche Bazzar. Overnight in tea house lodge.

Day 06: Namche Bazaar - Tengboche, (3860m) 05:00hrs:

After breakfast, trek start enjoying superb view of Mt. Everest, Nuptse, Lhotse, Ama Dablam and Thamserku. On the way to Tengboche, you can see wild lives like pheasant, musk deer, and Himalayan Thar. Continues walk through the pine forests before we reach to Tengboche. You can see the close views of Ama-Dablam, Nuptse, and Everest from The Tengboche. Tengboche has a biggest Buddhist Monastery in Khumbu region. Overnight in tea house lodge.

Day 07: Tengboche - Dingboche, (4350m) 05:00hrs:

After breakfast, we leave behind through several Chortens and Mani walls and small villages. After five hours walk we reached to Dingboche. We will see beautiful fields by stone walls to protect barley, buckwheat and potatoes. Overnight in tea house lodge.

Day 08: Acclimatize day In Dingboche (4350m/14270ft):

Today is also acclimatization day. Explore around the Dingboche. Overnight in tea house lodge.

Day 09: Dingboche - Lobuche (4925m) 04:00hrs:

Today we climb up the steep fatal moraine of the Khumbu Glacier. We are now in the locality of Mount Everest but the great mountain still remains mysterious. After 04 hours trek we arrived Lobuche, where you begin to feel a little out of breath due to high altitude. Overnight in Lobuche.

Day 10: Lobuche - Gorakshep (5170m) - Kalapatthar (5545m)-Gorakshep 06:00hrs:

Early morning you begin trek. We follow the path running through a trough alongside the Khumbu Glacier. Continuing on over rough ground we reach Gorak Shep, where a short break is offered to replenish fluids.  After 02 hours trek, we reaches Kala Pattar. Kala Patthar is a small rocky peak on the southwest ridge of Mt. Pumori . It is a hard climb to Kala Patthar, but the view from the top it's fantastic you can't imagination. You will see huge creaking glaciers surround and classic views of Mount Everest. The views from the summit of Kala Patthar (5545m) are really outstanding.

Day 11: Gorakshep - Everest base camp (8848m) - Lobuche (4925m) 06:00hrs:

Today trek to Everest Base Camp. Mt. Everest known as "Chomolungma" in Chinese," Sagarmatha" in Nepali,  Mt. Everest in English, the mountain was originally called Peak XV, In 1852 it was recognized as the highest peak on earth and  four years back  was given the name "Mount Everest" in honor of Sir George Everest, who was the surveyor of general. Mount Everest included in world heritage site of UNESCO and Nepal government include " Sagarmatha National Park". After seeing breathtaking view and Khumbu glacier we return back to Lobuche. Overnight in tea house lodge.

Day 12: Lobuche - Lobuche Peak Base Camp (4950m) (02 hrs trek):

Today is a easy day of trekking. We will spend some time in Lobuche before following an easy trail that leads to Lobuche Peak Base Camp. Once we arrive at the base camp our Sherpa crew will set up the camp and make necessary preparations for setting up additional camps at higher altitudes. Since it is a short day of trekking we will have enough time to rest, much needed for further climb to higher altitudes and for the main summit climb of Lobuche Peak. Overnight in a tented camp.

Day 13: Lobuche Base Camp - High Camp (5400m) (04 hrs trek):

After breakfast, leaving the base camp we will follow a narrow trail that is often snow covered and icy. We may have to make use of ropes and crampons during our climbing trek today. Our ascend journey can be very tiring, so resting every now and then helps in restoring energy. We will reach a good campsite at 5400 meters, our Sherpa crew will quickly set up the camp and make final checks on our climbing gears and our health conditions before the main summit climb of Lobuche Peak, the following day. Overnight in a tented camp.

Day 14: High Camp - Summit Lobuche Peak (6119m) and back to Base Camp (09 hrs):

Today is the day we all have been frantically waiting for. Fully acclimatized and properly equipped with all the climbing gears, we start early with the aim to reach the summit before noon as the strong winds after midday can create obstacles in reaching the summit. Following the footsteps and instructions of our experienced climbing experts we will climb up the south ridge overcoming several technical sections and head towards the summit. Our tiring climb to the summit is rewarded with outstanding views of Everest, Lhotse, Makalu, Nuptse, Pumori, Ama Dablam and other surrounding high peaks. We will spend short quality time at the summit before sliding down following the same route and head back to reach the base camp. Overnight in a tented camp.

Day 15: Lobuche Base Camp - Pangboche (3930m) (06 hrs trek):

After successfully achieving the Lobuche Peak summit, we will follow the trail that passes through cairns and memorials that have been erected in the memory of climbers who lost their lives when climbing Mount Everest. Our trail is a gradual descend journey passing through Pheriche and then continue trekking until we arrive at Pangboche for our overnight stay. Overnight in tea house lodge.

Day 16: Pangboche - Namche Bazaar (3440m) 05:00hrs.:

We trek back through birch and rhododendron forest to the Tengboche, where has oldest monastery in the Khumbu region, and continue the trek, seeing spectacular views of Himalayas to the Namche Bazar.

Day 17: Namche Bazaar - Lukla (2840m) 06:00hrs.:

Today is our final days of trekking pursue the Dudh Kosi back down to Lukla.

Day 18: Lukla – Kathmandu (1310m) fly 35 minutes:

Early morning 35 minutes flight back to Kathmandu.

Day 19: Kathmandu departure::

Departure transfers to airport for your own destination.