Koshi Tappu Wildlife Reserve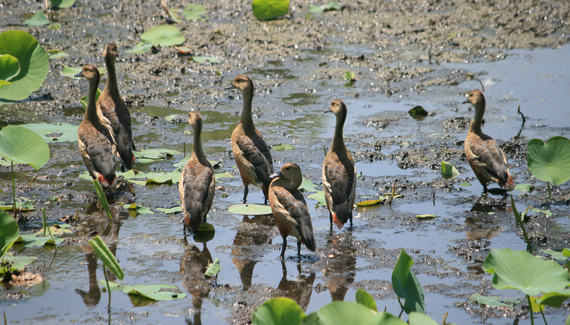 Koshi Tappu Wildlife Reserve, was set up mainly for bird watchers. The Camp is ideal for all nature lovers seeking peace within a glory of nature. Koshi Tappu wild life reserve has fixed a place itself as a birdwatchers' paradise. The reserve spreads over Saptari and Sunsari district in eastern south of Nepal. defined by the eastern and western bank of Koshi River. Koshi tappu wildlife reserve has been recognized as wetland site from 1987.The vegetation of the reserve is mainly grassland with patches of scrub and deciduous revering forest that makes Koshi tappu special is that birds seen here are not found other part of Nepal. The reserve has recorded around 439 species of bird variety. Some of which fly all the way from Siberia during winter .A wide variety of Ducks, herons, stork's egrets, ibis are seen on the River bank. The Koshi Tappu Wildlife best Birds are Swamp Francolin, Black-necked Stork, Lesser Adjutant, Comb Duck, Falcate Duck, Spot-billed Duck, Cotton Pigmy Goose, Baer's Pochard, Bailon's Crake, Ruddy Crake, Greater Painted Snipe, Pheasant-tailed jacana, Yellow-wattled Lapwing, Indian Courser, Black-bellied Tern, Imperial Eagle, White-tailed Eagle, Lesser Kestrel, Bristle Grass bird, Striated Grass bird etc. Other animals are found here are wild buffalo wild boar, hog deer, spotted deer, blue bell and jackal. Gharial Crocodile and Gangetic dolphin are other attractions. The best time to visit Koshi Tappu is between Octobers to April.
Day 01: Arrive in Kathmandu:

On this day you arrive to Kathmandu and we transfer you to your hotel. After arriving at the hotel you rest and rejuvenate and observe the locality. A member of Himalayas Facts Holidays will brief about the itinerary on this same day.

Day 02: Sightseeing tour in Kathmandu city and Patan City:

While our backend personnel will be busy making arrangements for the day to come, we would take the privilege to go around the city and look at some interesting historical relics. On this day we would visit Swayambunath stupa, famous as monkey temple as well, Basantapur Durbar Square, an ancient palace courtyard, and Patan Durbar Square world heritage sites.

Day 03: Kathmandu- Biratnagar (fly 45 minutes and drive 01 hours):

After brreakfast drive to domestic airport, fly 45 minutes to Biratnagar and drive 01 hours to Koshi Tappu Wildlife Reserve. After arrival at the Camp, give short breif about the tour package and have lunch. Visit birding in the nearby surroundings of the park.Overnight in Camp.

Day 04: Full day in Koshi Tappu Wildlife Reserve:

Early morning nature walk and back to Camp have breakfast. Afternoon Soft Wildlife rafting on the Sapta Koshi river with naturalists to help you view some of the water birds, water buffaloes, dolphins and various marine and jungle wildlife. End boat trip by the bank of the river and have picnic lunch. Short drive to the Koshi Barrage to view the bird life and fresh water Dolphins. Late afternoon return to the camp. Overnight in Camp.

Day 05: Koshi Tappu - Biratnagar - Kathmandu:

Early morning short bird watching, back to resort have breakfast and transfer to Biratnagar Airport. Arrival Kathmandu, free time in the Evening. Overnight in Hotel.

Day 06: Departure from Kathmandu:

We help you transfer to the Airport according to the schedule of your flight. With heavy heart and excitement of seeing in future we wave off for this time.