Kathmandu Lhasa City Tour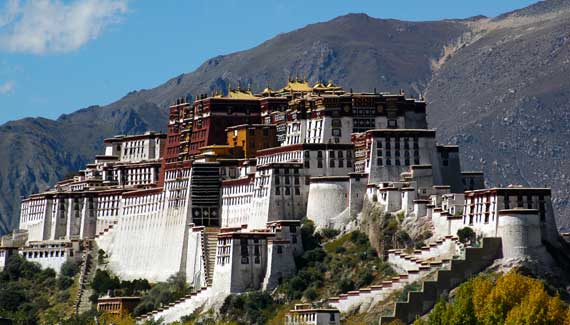 Kathmandu Lhasa City Tour: After big Earthquake in April 2015, the overland tour crossing border from Nepal to Tibet is temporarily closed. The only way to tour from Nepal to Tibet is fly from Kathmandu to Lhasa. From May to early October operate daily flight and other season 02 or 03 weekly flights from Kathmandu to Lhasa.
From this tour offers adventurous journey with enriching heritages and historical places of Nepal and Tibet. Lhasa city is popularly known as 'Land of the Gods', home of the former Dalai Lama. Lhasa city is a tourists' haven in Tibet.
Day 01: Arrive in Kathmandu::

On this day you arrive to Kathmandu and we transfer you to your hotel. After arriving at the hotel, need to fill Tibet visa application form and collect your passports and passport size photo. Then after check in the hotel, rest and rejuvenate.

Day 02: Sightseeing in Kathmandu and Patan City::

While our backend personnel will be busy making arrangements for the day to come, we would take the privilege to go around the city and look at some interesting historical relics. On this day we would visit Swayambunath; famous as monkey temple as well, Basantapur Durbar Square; an ancient palace courtyard, and Patan Durbar Square. Evening briefing about your Tibet tou, collection of your Tibet visa and departure information for the next day.

Day 03: Fly from Kathmandu to Lhasa (3,660m).:

After breakfast, transfer to International airport, enjoying the Trans Himalayan one hour long flight passes through Mount Everest to Lhasa. After landing at Gongar Airport, our Tibetan guide receives you and transfer to hotel after one hour driving. Explore the surrounding or rest and acclimatize.

Day 04: Visit Lhasa City::

This day we visit several of Lhasa's monasteries with a guide including Sera Monastery, the Norbulingka, a summer palace of the Dalai Lama, Jokhang Temple and visit to the traditional Bharkhor street.

Day 05: Visit Lhasa City::

Morning visit jewel of Lhasa, The Potala Palace of Dalai Lama. Afternoon, visit the largest monastery Drepung, which was founded in the 14th century.

Day 06: Fly from Lhasa to Kathmandu::

After breakfast, transfer to Gongar Airport for your return flight to Kathmandu.
You have the option to extend your trip to continue Chitwan jungle safari, Pokhara City nature tour, Trisuli Rafting adventure trip, scenic Everest flight and other activities. Overnight in Kathmandu.

Day 07: Departure transfer::

We help you transfer to the airport according to the schedule of your flight. With heavy heart as a result of departure and on the contrary excitement of seeing in future we wave off for this time.