Bardia National Park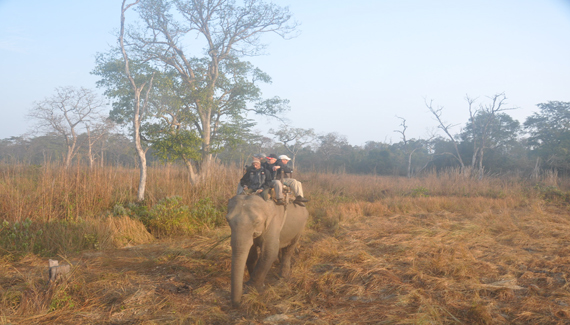 Bardia National Park, which spreads from the Karnali river in the west to the Babai river in the east, spreads over 968 sq. km and is the largest and most undisturbed wilderness area in the Terai, providing excellent habitat for endangered species like rhinoceros, wild elephant, tiger , swamp deer , black buck, gharial crocodile, marsh mugger crocodile and the Gangetic dolphin.
Within the park are several open grassland areas that provide excellent view of wildlife. Blackbucks, found in a wild state only in Bardia, are frequently seen in Khairi Panditpur about 30 km south-east of the park headquarters. Many forest roads throughout the park also offer excellent game viewing.
The best time to visit is between October and early April when the weather is warm and dry. To reach the park, one can take a flight from Kathmandu to Nepalgunj, from where public bus services are available. If you are travelling by your own vehicle make sure that you have ample amount of fuel, as there are no filling stations within the park. Lodges are available at the park headquarters.
Day 01: Arrive in Kathmandu:

On this day you arrive to Kathmandu and we transfer you to your hotel. After arriving at the hotel you rest and rejuvenate and observe the locality. A member of Himalayas Facts Holidays will brief about the itinerary on this same day.

Day 02: Sightseeing in Kathmandu city and Patan City:

While our backend personnel will be busy making arrangements for the day to come, we would take the privilege to go around the city and look at some interesting historical relics. On this day we would visit Swayambunath stupa, famous as monkey temple as well, Basantapur Durbar Square, an ancient palace courtyard, and Patan Durbar Square world heritage sites.

Day 03: Kathmandu- Nepalgunj (fly 01 hour and drive 02.30 hours):

After breakfast drive to domestic airport fly 01 hour to Nepalgunj and drive 02.30 hours to Bardia national park. After arrival at the resort give short breif about the tour package and have lunch.Take a rest for a while, then visit to Tharu village and Tharu museum. Dicscover the tharu culture and their lifestyle, visit Crocodile breeding center. Overlight in Resort.

Day 04:Full day in Bardia Jungle:

Full day walking Jungle safari to view  Gangetic Dolphin- swimming possible.

Day 05: Full day in Bardia Jungle:

Exploration of Tiger territory ( Half day Walking).Elephant back safari,Jeep safari or Rafting ( Option).

Day 06:Bardia -Nepalgunj-Kathmandu:

Early morning bird watching, back to resort have breakfast and visit to Elephant Breeding Center, Explore the surrounding village and have lunch. Afternoon transfer to Nepalgunj airport. Arrival Kathmandu, free time in Evening. Overnight in Hotel.

Day 07: Departure from Kathmandu:

We help you transfer to the Airport according to the schedule of your flight. With heavy heart and excitement of seeing in future we wave off for this time.
What our clients say?