Ultra light Flight tour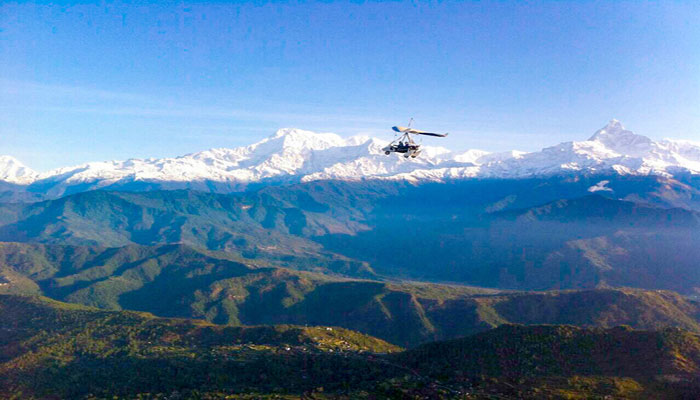 Ultra light flight takes off from one of the most beautiful hill top in Pokhara, adjacent to the Fewa Lake. The 2000 meter hill is the hub for adventure sports and beautiful sunrise over the mountains of Annapurna region. Ultra light flight in Pokhara is the most extreme form of pleasure in the skies and especially in Nepal. The soaring views of Fistail, Dhaulagiri and Annapurna in the backdrop and the large human settlement below make this flight one of its kind. This must do activity in Pokhara offers an undisturbed view of the vista ahead, above and below, which is not offered by other flights.
After a thorough safety lessons you take off from Sarangkot along with an experienced and licensed pilot who accompanies you throughout your flight. An ultra light can only accommodate 2 people at a time and fly only a height to ensure no altitude issues. The view of the fewa lake at the bottom, where mostly the aircraft hovers around is beyond extraordinary and the scenery of the hilltop peace pagoda as well is magnificent.
If you do not have a sick stomach you can also do some acrobatics, but it is completely optional. The ultra light has been on the bucket list of must do things while in Nepal and also advised by virtual tourist and trip advisor. The flights maintain all standard rules and regulation of aviation so it is believed to be safe. This amazing flight would be an unforgettable experience for you.